Power Supply
PS1200 Power Supply
Parts No.:G0068
JAN:4580416430685
Jun 13, 2014 release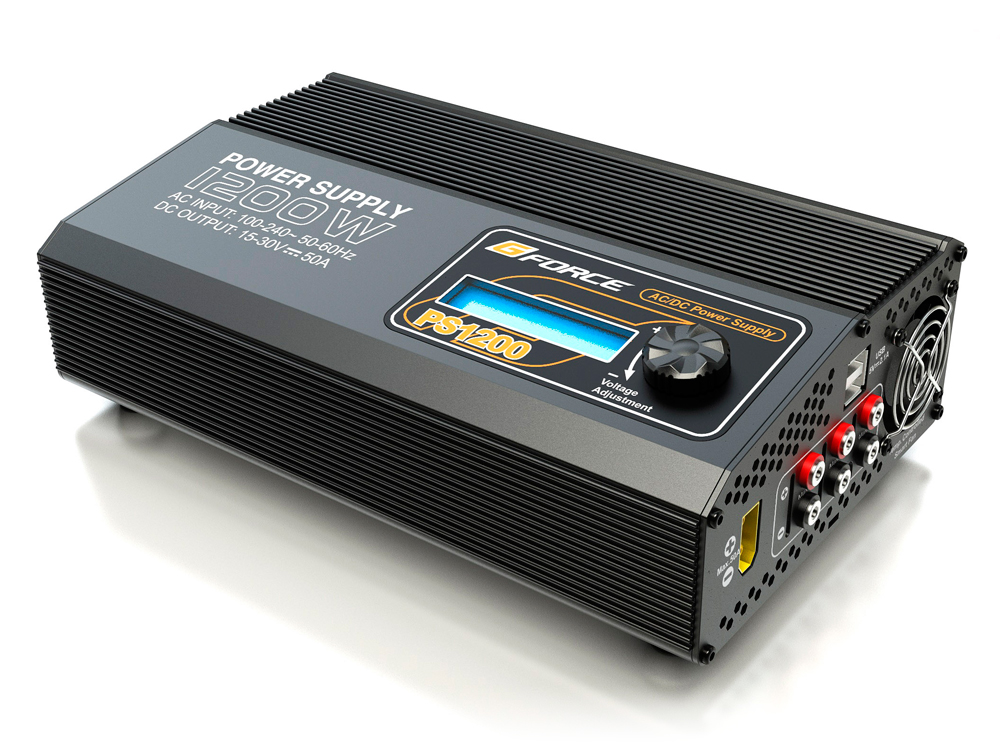 GForce introduce the PS1200 power 15-30VDC power supply. The high output device is usable with 100-240VAC input and offers a selectable output voltage of 15-30VDC with up to 50A current. Another three outputs up to 10A each. The power supply also features two 5V/2.1A USB ports, a temperature controlled fan and several safety features such as over voltage and over temperature as well as reverse polarity protection.
Features
Active PFC: smaller AC input current less interference, and Conform to CE Regulations.
One main DC power output up to 50 amperes and another three outputs up to 10 amperes each.
Output voltage adjustable 15-30V.
LCD indicates voltage, current amperes output, output power and the output power percentage.
AC 100-240V worldwide operation: need not any alternative switcher, worldwide safe operation.
Two USB ports, 5 volts, 2100mA total for iPad, mobile phone, digital cameras and etc.
Smart cooling fans turned on upon the temperature automatically.
Over current, over voltage, over load and over temperature protection.
Short-circuit protection on output, safer and more reliable.
Product Specification
Voltage
100-240V AC
Input AC Frequency
50-60Hz
Output Voltage
15-30V DC±0.5V
Output Current
50A±1A
Current Overload Protection
≤51A 500MS
Input Fuse
20A Fuse
LCD Display
Voltage Precision ±0.3V
Current Precision ±0.5A
Output Voltage Ripple
<300mV
Power Efficiency
89%
Power Factor
>0.98
Over Temperature Protection
<65℃
Cooling Method
Cooling Fan
Operating Temperature
0-40℃
Operating Humidity
0-90%
Dimensions (L*W*H)
305x170x85mm
Net Weight
3.08kg